I, Pierre Riviere…: Interview by P. Kané in Cahiers du Cinéma.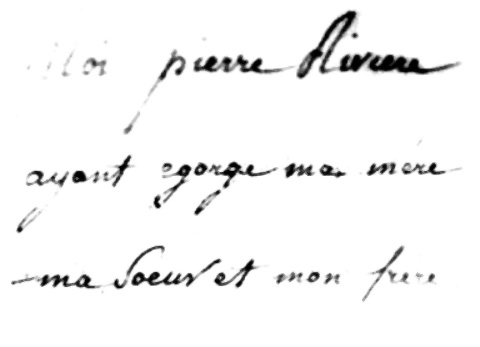 Q. If you like, we can be­gin by dis­cussing your in­ter­est in the pub­li­ca­tion of the dossier on Pierre Rivière and in par­tic­u­lar your in­ter­est in the fact that, at least in part, it has been made into a film.
Michel Foucault For me the book was a trap. You know how much peo­ple are talk­ing now about delin­quents, their psy­chol­ogy, their dri­ves and de­sires, etc. The dis­course of psy­chi­a­trists, psy­chol­o­gists and crim­i­nol­o­gists is in­ex­haustible on the phe­nom­e­non of delin­quency. Yet it is a dis­course that dates back about 150 years, to the 1830s. Well, there you had a mag­nif­i­cent case: in 1836 a triple mur­der, and then not only all the as­pects of the trial but also an ab­solutely unique wit­ness, the crim­i­nal him­self, who left a mem­oir of more than a hun­dred pages. So, to pub­lish a book was for me a way of say­ing to the shrinks in gen­eral (psychiatrists, psy­cho­an­a­lysts, psy­chol­o­gists): well, you've been around for 150 years, and here is a case con­tem­po­rary with your birth. What do you have to say about it? Are you bet­ter pre­pared to dis­cuss it than your 19th cen­tury col­leagues?
In a sense I can say I won; I won or I lost, I don't know, for my se­cret de­sire of course was to hear crim­i­nol­o­gists, psy­chol­o­gists, and psy­chi­a­trists dis­cuss the case of Rivière in their usual in­sipid lan­guage. Yet they were lit­er­ally re­duced to si­lence: not a sin­gle one spoke up and said: "Here is what Rivière was in re­al­ity. And I can tell you now what could­n't be said in the 19th cen­tury." Except for one fool, a psy­cho­an­a­lyst, who claimed that Rivière was an il­lus­tra­tion of para­noia as de­fined by Lacan. With this ex­cep­tion no one had any­thing to say. But I must con­grat­u­late them for the pru­dence and lu­cid­ity with which they have re­nounced dis­cus­sion of Rivière. So it was a bet won or lost, as you like…
Q. But more gen­er­ally, it's dif­fi­cult to dis­cuss the event it­self, both its cen­tral point which is the mur­der and also the char­ac­ter who in­sti­gates it.
MF. Yes, be­cause I be­lieve that Rivière's own dis­course on his act so dom­i­nates, or in any case so es­capes from every pos­si­ble han­dle, that there is noth­ing to be said about this cen­tral point, this crime or act, that is not a step back in re­la­tion to it. We see there nev­er­the­less a phe­nom­e­non with­out equiv­a­lent in ei­ther the his­tory of crime or dis­course: that is to say, a crime ac­com­pa­nied by a dis­course so strong and so strange that the crime ends up not ex­ist­ing any­more; it es­capes through the very fact of this dis­course held about it by the one who com­mit­ted it.
Q. Well how do you sit­u­ate your­self in re­la­tion to the im­pos­si­bil­ity of this dis­course.
MF. I have said noth­ing about Rivière's crime it­self and once more, I don't be­live any­one can say any­thing about it. No, I think that one must com­pare Rivière with Lacenaire, who was his ex­act con­tem­po­rary and who com­mit­ted a whole heap of mi­nor and shoddy crimes, mostly fail­ures, hardly glo­ri­ous at all, but who suc­ceeded through his very in­tel­li­gent dis­course in mak­ing these crimes ex­ist as real works of art, and in mak­ing the crim­i­nal, that is Lacenaire him­self, the very artist of crim­i­nal­ity. It's an­other tour de force if you like: he man­aged to give an in­tense re­al­ity, for dozens of years, for more than a cen­tury, to acts that were fi­nally very shoddy and ig­no­ble. As a crim­i­nal he was a rather petty type, but the splen­dor and in­tel­li­gence of his writ­ing gave a con­sis­tency to it all. Rivière is some­thing al­to­gether dif­fer­ent: a re­ally ex­tra­or­di­nary crime which was re­vived by such an even more ex­tra­or­di­nary dis­course that the crime ended up ceas­ing to ex­ist, and I think that this is what hap­pened in the minds of the judges.
Q. Well then, do you agree with the pro­ject of Renè Allio's film, which was cen­tered on the idea of a peas­ant seiz­ing the op­por­tu­nity for speech? Or had you al­ready thought about that?
MF. No, it's to Allio's credit to have thought of that, but I sub­scribe to the idea com­pletely. For by re­con­sti­tut­ing the crime from the out­side, with ac­tors, as if it were an event and noth­ing but a crim­i­nal event, the es­sen­tial would be lost. It was nec­es­sary that one be sit­u­ated, on the one hand, in­side Rivière's dis­course, that the film be a film of mem­ory and not the film of a crime, and on the other hand, that this dis­course of a lit­tle Normand peas­ant of 1835 be taken up in what could be the peas­ant dis­course of that pe­riod. Yet, what is clos­est to that form of dis­course, if not the same one that is spo­ken to­day, in the same voice, by the peas­ants liv­ing in the same place. And fi­nally, across 150 years, it's the same voices, the same ac­cents, the same mal­adroit and rau­cous speech that re­counts the same thing with al­most noth­ing trans­posed. In fact Allio chose to com­mem­o­rate this act at the same place and al­most with the same char­ac­ters who were there for 150 years ago; these are the same peas­ants who in the same place re­peat the same act. It was dif­fi­cult to re­duce the whole cin­e­matic ap­pa­ra­tus, the whole filmic ap­pa­ra­tus, to such a thin­ness, and that it is re­ally ex­tra­or­di­nary, rather unique I think in the his­tory of cin­ema.
What's also more im­por­tant in Allio's film is that he gives the peas­ants their tragedy. Basically, the tragedy of the peas­ant un­til the end of the 18th cen­tury was still hunger. But, be­gin­ning in the 19th cen­tury and per­haps still to­day, it was, like every great tragedy, the tragedy of the law, of the law and the land. Greek tragedy that re­counts the birth of the law and the mor­tal ef­fects of the law on men. The Rivière af­fair oc­curred in 1836, that is, twenty years af­ter the Code Civil was set into place: a new law is im­posed on the daily life of the peas­ant and he strug­gles in this new ju­ridi­cal uni­verse. The whole drama of Rivière is a drama about the law, the code, le­gal­ity, mar­riage, pos­ses­sions, and so forth. Yet, it's al­ways within this tragedy that the peas­ant world moves. And what is im­por­tant there­fore is to show peas­ants to­day in this old drama which is the same time the one of their lives: just as Greek cit­i­zens saw the rep­re­sen­ta­tion of their own city on the stage.
Q. What role can this fact play, the fact that the Normand peas­ants of to­day can keep the spirit, thanks to the film, of this event, of this pe­riod?
MF. You know that there is a great deal of lit­er­a­ture about the peas­ants, but very lit­tle peas­ant lit­er­a­ture, or peas­ant ex­pres­sion. Yet, here we have a text writ­ten in 1835 by a peas­ant, in his own lan­guage, that is, in one that is barely lit­er­ate. And here is the pos­si­bil­ity for these peas­ants to­day to play them­selves, with their own means, in a drama which is of their gen­er­a­tion, ba­si­cally. And by look­ing at the way Allio made his ac­tors work you could eas­ily see that in a sense he was very close to them, that he gave them a lot of ex­pla­na­tions in­set­ting them up, but that on the other side, he al­lowed them great lat­i­tude, in the man­ner of their lan­guage, their pro­nun­ci­a­tion, their ges­tures. And, if you like, I think it's po­lit­i­cally im­por­tant to give the peas­ants the pos­si­bil­ity of act­ing this peas­ant text. Hence the im­por­tance also of ac­tors from out­side to rep­re­sent the world of the law, the ju­rors, the lawyers, etc., all those peo­ple from the city who are ba­si­cally out­side of this very di­rect com­mu­ni­ca­tion be­tween the peas­ant of the 19th cen­tury and the one of the 20th cen­tury that Allio has man­aged to vi­su­al­ize, and, to a cer­tain point, let these peas­ant ac­tors vi­su­al­ize.
Q. But is­n't there a dan­ger in the fact that they be­gin to speak only through such a mon­strous story?
MF. It's some­thing one could fear. And Allio, when he be­gan to speak to them about the pos­si­bil­ity of mak­ing the film, did­n't dare tell them what was re­ally in­volved. And when he told them, he was very sur­prised to see that they ac­cepted it very eas­ily; the crime was no prob­lem for them. On the con­trary, in­stead of be­ing an ob­sta­cle, it was a kind of space where they could meet, talk and do a whole lot of things which were ac­tu­ally in their daily lives. In fact, in­stead of block­ing them , the crime lib­er­ated them. And if one had asked them to play some­thing closer to their daily lives and their ac­tiv­ity, they would have per­haps felt more the­atri­cal and stagey than in play­ing this kind of crime, a lit­tle far away and myth­i­cal, un­der the shel­ter of which they could go all out with their own re­al­ity.
Q. I was think­ing rather of a some­what un­for­tu­nate sym­me­try: right now it's very fash­ion­able to make films about the turpi­tudes and mon­strosi­ties of the bour­geoisie. So in this film was there a risk of falling into the trap of the in­dis­creet vi­o­lence of the peas­antry?
MF. And link up again fi­nally with this tra­di­tion of an atro­cious rep­re­sen­ta­tion of the peas­ant world, as in Balzac and Zola…I don't think so. Perhaps just be­cause this vi­o­lence is never pre­sent there in a plas­tic or the­atri­cal way. What ex­ists are in­ten­si­ties, rum­blings, muf­fled things, thick­nesses, rep­e­ti­tions, things hardly spo­ken, but not vi­o­lence…There is none of that lyri­cism of vi­o­lence and peas­ant ab­jec­tion that you seem to fear. Moreover, it's like that in Allio's film, but it's also like that in the doc­u­ments, in his­tory. Of course there are some fre­netic scenes, fights among chil­dren that their par­ents ar­gue about, but af­ter all, these scenes are not very fre­quent, and above all, run­ning through them there is al­ways a great fi­nesse and acu­ity of feel­ing, a sub­tlety even in the wicked­ness, of­ten a del­i­cacy. Because of this, none of the char­ac­ters have that touch of un­re­strained sav­agery of brute beasts that one finds at a cer­tain level in the lit­er­a­ture on the peas­antry. Everyone is ter­ri­bly in­tel­li­gent in this film, ter­ri­ble del­i­cate and, to a cer­tain point, ter­ri­bly re­served.